BACKGROUND
Developmental dysplasia of the hip (DDH) is the most common pediatric hip condition, seen in 1 – 3% of all newborns. DDH represents a spectrum of hip abnormalities, ranging from a mildly dysplastic hip to one that is completely dislocated. If diagnosed early, DDH can often be managed non-operatively using brace treatment, which allows the hip joint to mature normally. However, undetected or late diagnosed DDH often requires more invasive surgical treatments and potentially further corrective surgeries during childhood and adolescence. Thus, it is essential that DDH is caught promptly in order to avoid poor outcomes. The goal of early diagnosis and treatment of DDH is to establish a concentric hip reduction, restore normal anatomy and development, and prevent subsequent impairment, such as the development of premature hip osteoarthritis. Various screening programmes have been developed around the world for the early detection of DDH, most of which use clinical exams as the basis of their guidelines with or without ultrasound. These programmes are designed to provide standardized guidance to relevant healthcare providers on the management of DDH using an easy to follow, step-by-step algorithm. Although programmes may differ, all aim to identify all cases of hip instability and dysplasia in a timely manner (before walking age) so that the patient can be observed or treated appropriately. A surveillance guideline must be designed to meet the needs of the local populations and healthcare systems. Because of the need to take into account the local context, it is unlikely that established hip surveillance programmes in Europe and North America are transferrable to developing countries such as India.
AIMS
The aim of this project was to develop a comprehensive list of consensus items for the screening and diagnosis of developmental dysplasia of the hip (DDH) in India. From this list, a consensus algorithm was developed that would guide practitioners through the screening and diagnosis process, taking into account any differences in access to resources that may exist in different areas. The goal was to develop practice guidelines that were feasible to be implemented across the country's diverse healthcare settings.

POSI took the lead in setting up a high-level DDH Expert Group comprising of members of various national organizations involved in paediatric care, in order to establish contextually-relevant screening guidelines for DDH in India.

This project rested upon four important legs:
Awareness: Creating awareness among Paediatricians & primary care physicians about the incidence & deleterious effects of late-diagnosed DDH
Evidence: Collecting evidence from existing literature the help development of guidelines. Simultaneously to detect gaps in literature for future research.
Consensus: Generating consensus from experts where evidence is not available by relying on clinical practice & experience.
Implementation: Ensuring that guidelines are practical & useful for dissemination & immediate implementation.
The first step involved recruiting relevant healthcare providers to the management of patients with DDH in order to form a DDH Care Pathway Expert Group. We partnered with various national organizations; such as, the Indian Academy of Pediatrics (IAP), National Neonatology Forum of India (NNFI), Indian Radiological and Imaging Association (IRIA), Indian Federation for Ultrasound in Medicine and Biology (IFUMB), Indian Orthopaedic Association (IOA) & the Federation of Obstetric and Gynaecological Societies of India (FOGSI); with each organization nominating a few representatives. These organizations represent over 120,000 healthcare specialists in India, which speaks to the scope of this project and the impact the care pathway will have upon implementation.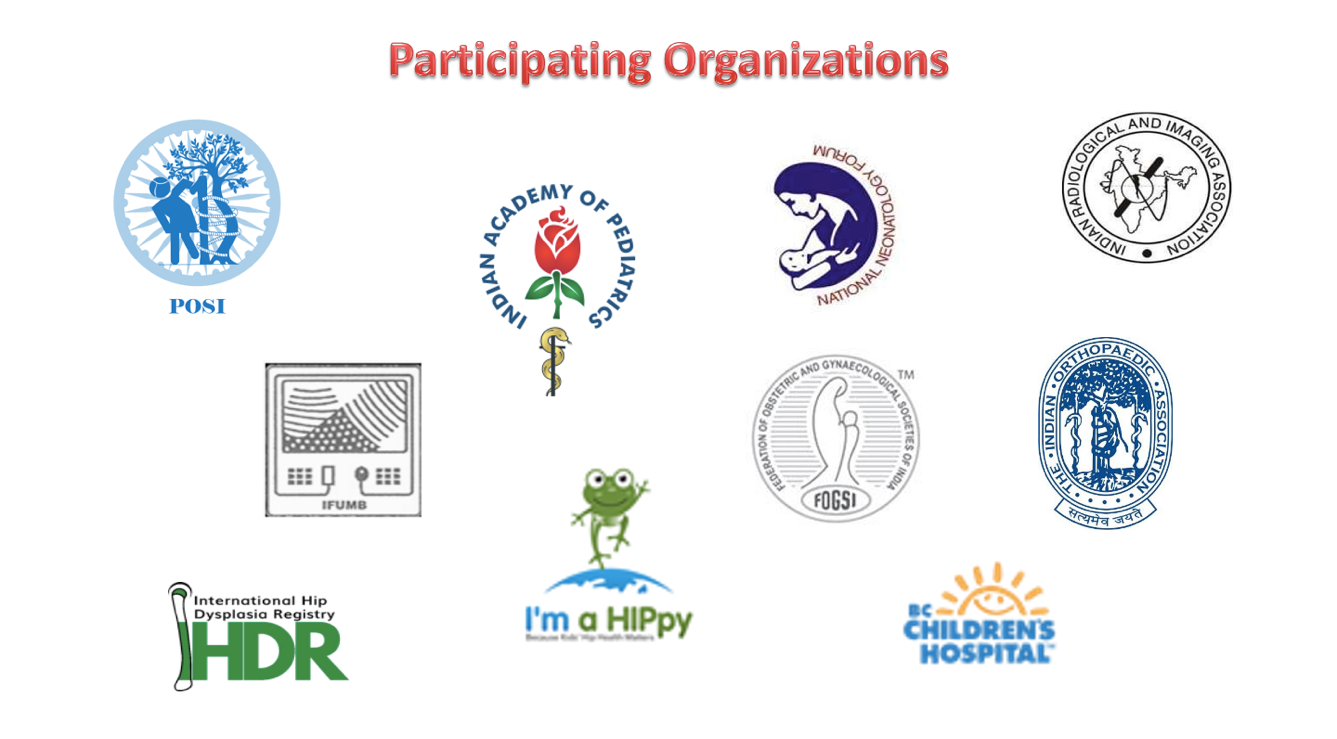 The goal of this stage was to sensitize all members of the interdisciplinary group to the topic and administer surveys to help us understand practice patterns, local needs, and access to resources and expertise. We began regular monthly Zoom meetings to share relevant literature and discuss the role of various screening modalities. After this stage we moved onto the Delphi consensus-building approach, which consisted of multiple rounds of survey interspersed with online group meetings. The multi-round process began with a comprehensive list of consensus statements on the topic, and participants rated their agreement with each statement. After the survey was completed, the working group then met to discuss the statements where consensus was not reached. This iterative process continued until there was a list of statements that reached consensus across the group — these statements were then used to develop the Care Pathway. The guidelines & care pathway are now finalized and the results are ready to be disseminated widely on various organizations' websites, newsletters & associations' apps / social media etc. A final manuscript of the guidelines is being prepared & will be submitted for publication to Indian Pediatrics (official journal of IAP). This project has the potential to standardize diagnosis and management decisions and decrease the prevalence of walking-age DDH on a national scale.
Key features of the DDH Care Pathway:
A broad based guideline in order to remain applicable to the diversity of India's healthcare settings.
Developed for use by clinical healthcare providers, especially paediatricians, neonatologists and primary care physicians; however, it can be utilized by a wide cadre of trained healthcare providers who care for children so as to maximize uptake across the country.
Focus on 'surveillance' rather than 'screening' — emphasizing the concept of periodic physical examinations as part of regular well-baby checks/vaccination visits until the child is of walking age.
Recommended periodic hip examinations have been aligned with the immunization schedule [at birth, 6 weeks, 10 weeks, 14 weeks, 6 months, 9 months, 12 months, 15 months and 18 months of age] recommended under the Universal Immunization Programme and established under the National Reproductive & Child Health Programme, National Health Mission, Ministry of Health and Family Welfare, Govt. of India (MoHFW, GOI). This programme brings in millions of children per year into well-baby clinics for immunizations from birth until five years of age.
Screening based on regular clinical examination of the hips at every well-baby check/vaccination visit in addition to selective imaging using ultrasound or x-ray for any baby with abnormal clinical finding(s) and/or risk factor(s) present.
Age-specific clinical tests for babies < 14 weeks of age, 14 weeks - 6 months of age, or > 6 months of age
Flexibility in the timing of ultrasound for babies < 6 weeks of age depending on potential for loss to follow-up.
Flexibility in the timing and imaging modality for babies < 14 weeks of age without access to quality ultrasound.
Flexibility in the imaging modality for babies between 14 weeks and 6 months of age.
Referral to Paediatric Orthopaedic / Orthopaedic Surgeon for abnormal clinical and/or imaging findings.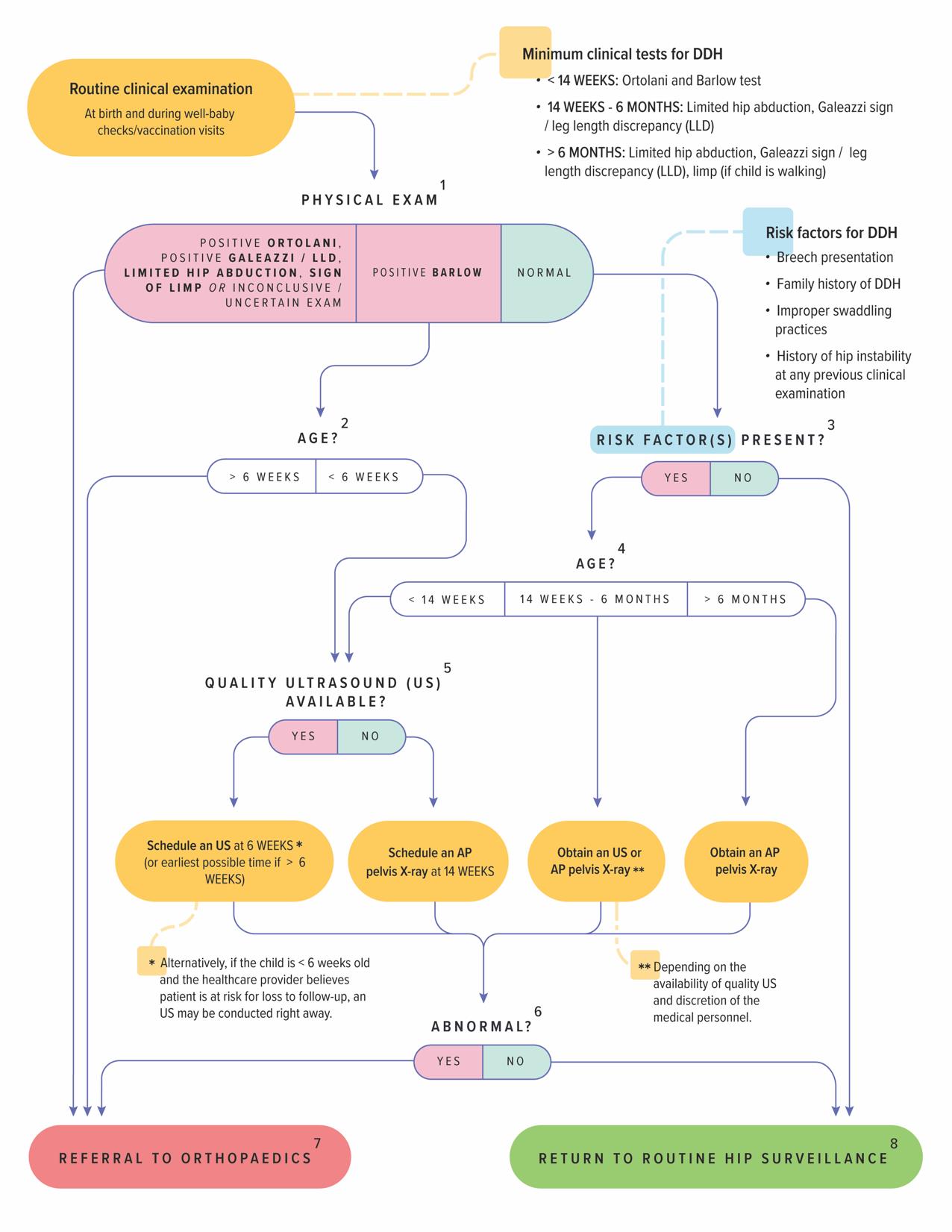 Fig. Algorithm for DDH screening in India
NATIONAL DDH EXPERT GROUP
Project Lead
Dr. Alaric Aroojis, Consultant Paediatric Orthopaedic Surgeon, Bai Jerbai Wadia Hospital for Children, Mumbai, Maharashtra.

PAEDIATRIC ORTHOPAEDIC SOCIETY OF INDIA
Dr. Dhiren Ganjwala, Paediatric Orthopaedic Surgeon, Ganjwala Orthopedic Hospital, Ahmedabad, Gujarat.
Dr. Ramani Narasimhan, Sr. Paediatric Orthopaedic Surgeon, Indraprastha Apollo Hospital, New Delhi, Delhi.
Dr. Sandeep Patwardhan, Professor & Paediatric Orthopaedic Specialist, Sancheti Institute for Orthopaedics and Rehabilitation, Pune, Maharashtra.
Dr. Atul Bhaskar, Hon. Paediatric Orthopaedic Surgeon, Bombay Hospital Institute of Medical Sciences, Mumbai, Maharashtra.
Dr. Rujuta Mehta, HOD and Consultant Paediatric Orthopaedic Surgeon, Bai Jerbai Wadia Hospital for Children, Mumbai, Maharashtra.
Dr. Taral Nagda, Paediatric Orthopaedic Surgeon, Jupiter Hospital, Mumbai, Maharashtra.
Dr. Thomas Palocaren, Professor, Dept. of Orthopaedics, Christian Medical College, Vellore, Tamil Nadu.
Dr. Sanjay Sarup, Director, Dept. of Children's Orthopaedics & Spine Surgery, Artemis Hospital, Gurgaon, Haryana.

INDIAN ACADEMY OF PEDIATRICS
www.iapindia.org
Dr. Devender Gaba, Medical Director & Pediatric Consultant, Genesis Hospital, New Delhi, Delhi.
Dr. Samir Shah, Consultant Pediatrician, Samir Hospital, Vadodara, Gujarat.
Dr. Rashmi Dwivedi
Dr. G Sudhakar
Dr. Ananda Kesavan, Professor of Pediatrics, Government Medical College, Thrissur, Kerala.
Dr. GP Kaushal, Associate Prof., Pediatrics, Dr. Babasaheb Ambedkar Medical College & Hospital, Delhi.
Dr. A Somasundaram, Consultant in Child Development & Behaviour, Prashanth Superspeciality Hospital, Chennai, Tamil Nadu.
Dr. Jaydeep Choudhury, Prof., Dept. of Pediatrics, Institute of Child Health, Kolkata, West Bengal.
Dr. Atanu Bhadra

NATIONAL NEONATOLOGY FORUM OF INDIA
Dr. Srinivas Murki, Chief Neonatologist, Paramitha Children's Hospital, Kothapet, Hyderabad, Telangana.
Dr. Rajendra Prasad Anne, Asst. Prof., Pediatrics, All India Institute of Medical Sciences, Hyderabad, Telangana.

INDIAN RADIOLOGICAL AND IMAGING ASSOCIATION
Dr. Deepak Patkar, Consultant & Head, Dept. of Radiology, Nanavati Max Super Speciality Hospital, Mumbai, Maharashtra.
Dr. Nidhi Bhatnagar, Prinicipal Consultant, Radiology, Max Multispeciality Centre, New Delhi, Delhi.

INDIAN FEDERATION OF ULTRASOUND IN MEDICINE AND BIOLOGY
Dr. Alka Karnik, Consultant, Head of Ultrasound Department, Max Nanavati Multispeciality Hospital, Mumbai, Maharashtra.
Dr. Ashwin Lawande, Consultant, Joshi Imaging Clinic, Mumbai, Maharashtra.

The Federation of Obstetric and Gynaecological Societies of India (FOGSI)
Dr. Uday Thanawala, Consultant Obstetrician & Gynaecologist, Thanawala Maternity Home, Vashi, Navi Mumbai, Maharashtra.

Indian Orthopaedic Association (IOA)
Dr. Ajai Singh, Head, Paediatric Orthopaedics, King George Medical University, Lucknow, Uttar Pradesh.
Supported by office-bearers of following organizations
Dr. Bakul Parekh, President, IAP, 2020.
Dr. GV Basavaraja, Secretary-General, IAP, 2020-21.
Dr. Samir Dalwai, Joint Secretary - Admin, 2020-21.
Dr. Ashok Deorari, President, NNFI, 2020.
Dr. Ranjan Pejaver, President, NNFI, 2021.
Dr. Lalan Bharti, Secretary, NNFI, 2020.
Dr. Alpesh Gandhi, President, FOGSI, 2020.
Dr. B Shivashankar, President, IOA, 2021.
Dr. Atul Shrivastava, Vice-President, IOA, 2021.
Dr. Rajesh Gupta, Chairman, IOA Rural Committee, 2020.

International Advisors
Dr. Kishore Mulpuri, Prof. & Head, Dept. of Orthopaedics, University of British Columbia, Vancouver, Canada.
Dr. Emily Schaeffer, Research Director, Dept. of Orthopaedics, BC Children's Hospital, Vancouver, Canada.
Ms. Jacqueline Li, Research Assistant, Dept. of Orthopaedics, BC Children's Hospital, Vancouver, Canada.